Lumpsum Investment - What is it and what are its Benefits?
There are two ways of investing in Mutual Funds. a. SIP b. Lumpsum
SIP as we saw in earlier blog is a systematic approach to investing money. It is for those who have salaried income and those who don't wish to keep a track of the market behaviour. They have small amounts of money to invest at regular intervals for a long term duration.
Lumpsum on the other hand is for those who get a huge chunk of money in one shot via their business. Let us understand this method more in this write up.
So, Lumpsum is basically a method of Mutual Fund investment where investment id made in one go rather than small amounts like in SIP.
Key features of Lumpsum invest includes :
Works best during Bull Market.
Works best for long term investment.
You hold the control over investments rather than a bank deciding your investments.
Better alternative for a large amount sitting idle in savings account.
Every investments comes with its own set of risks. One who doesn't get jittery seeing downward market trend will receive benefit in long run from Lumpsum Investment. Study the varied options available and invest wisely as per your requirements.
After a thorough comparative study of SIP vs. Lumpsum, you can choose the best method for yourself.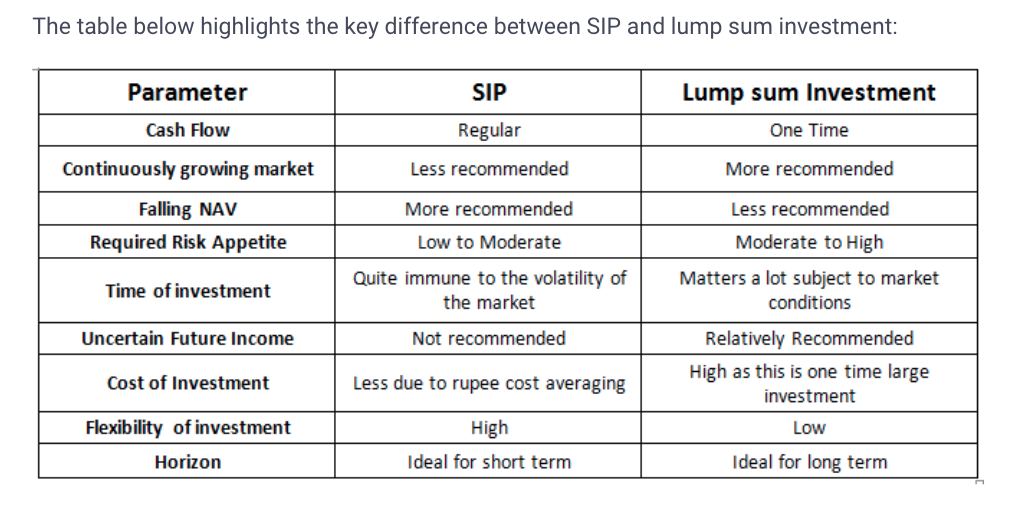 Source : BankBazaar
Have a look at Large cap Schemes, Medium Cap Schemes, Multi-cap Schemes, Equity-linked savings schemes for SIP for the comparative study.
---
ForexOverFlow is an international team of Forex analysts and traders. Our goal is to share our knowledge of the Forex World. Forex is as large as the wild Amazon Jungle. Common people can benefit from our website, which we update daily in terms of technical analysis and fundamental analysis. We publish strategies that are simple and yet lucrative for manual traders. We are able to offer Mql4 or Mql5 platform development services. Meta trader 4 or 5 based indicators and expert advisors are available for users. Our developers' charges are fair and realistic.ForexOverFlow is here to bring a revolution to the educational forex industry which will make the masses well informed and well educated by just dedicating a few minutes a day.