Daily Analysis For WTI Crude (US Oil) 13-03-2023
WTI Crude Oil (US Oil) Analysis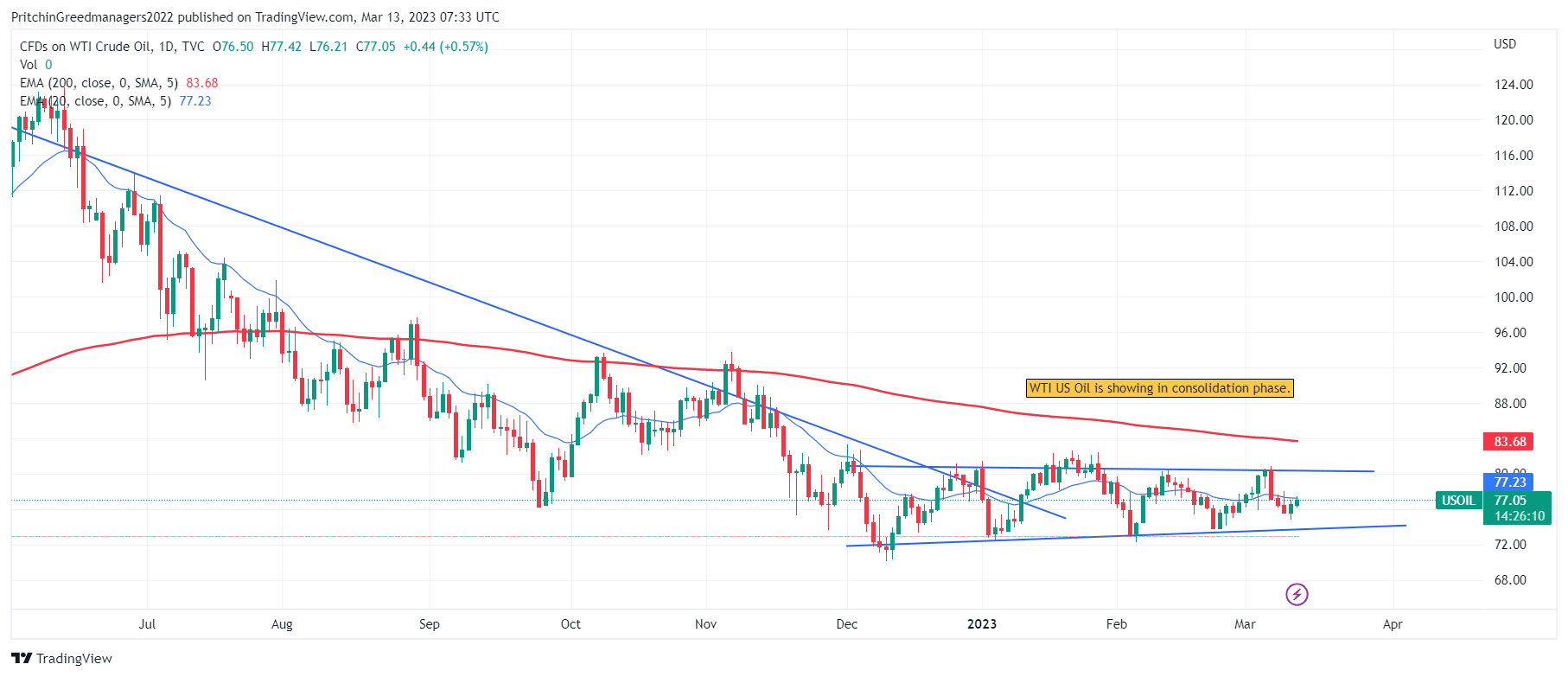 Economic Events and Scenario for WTI Crude Oil (US Oil)
Economic Events: -
| GMT | | Event | Currency |
| --- | --- | --- | --- |
| 13:00 | - | (Ecuador) Balance of Trade | USD |
| 15:00 | - | (United States) Consumer Inflation Expectations | USD |
| 15:30 | - | (United States) 3-Month Bill Auction | USD |
| 15:30 | - | (United States) 6-Month Bill Auction | USD |
---
Today's Scenario: - WTI crude oil is currently trading around $77.00 as buyers face challenges in taking advantage of the overall risk-on sentiment and weakness in the US Dollar during early Monday. Despite this, the commodity is holding steady after bouncing back from a support line on the previous day. Traders are now awaiting the monthly oil market reports from the US Energy Information Administration (EIA) and the Organization of the Petroleum Exporting Countries (OPEC) to assess the market sentiment and potential price direction.
---
Buy Scenario: - If WTI crude oil manages to maintain a steady rise above the level of $76.71, it could indicate the presence of buyers in the market. In this scenario, we could see a labored rally with a target of $77.52 as the first resistance level, followed by a resistance cluster ranging from $78.18 to $78.29. Additionally, there is another 50% level of resistance at $78.83 that may come into play. Till we do not advise to buy in crude oil.
---
Selling Scenario: - If WTI crude oil is unable to sustain its move above $76.71, it could indicate the presence of sellers in the market. This could lead to a potential retest of the support level at $74.96, followed by the main bottom at $74.17. A break below this level could signify a change in the main trend and potentially fuel further selling pressure, with the next support cluster seen at $73.03 - $73.05. Till will did not advise to sell WTI Crude oil.
---
Support and Resistance Level: -
| Support | | | Resistance |
| --- | --- | --- | --- |
| S1 92.93 | - | | R1 105.59 |
| S2 90.06 | - | | R2 108.75 |
| S3 85.41 | - | | R3 116.64 |