Daily Analysis For WTI Crude (US Oil) 06-04-2023
WTI Crude Oil (US Oil) Analysis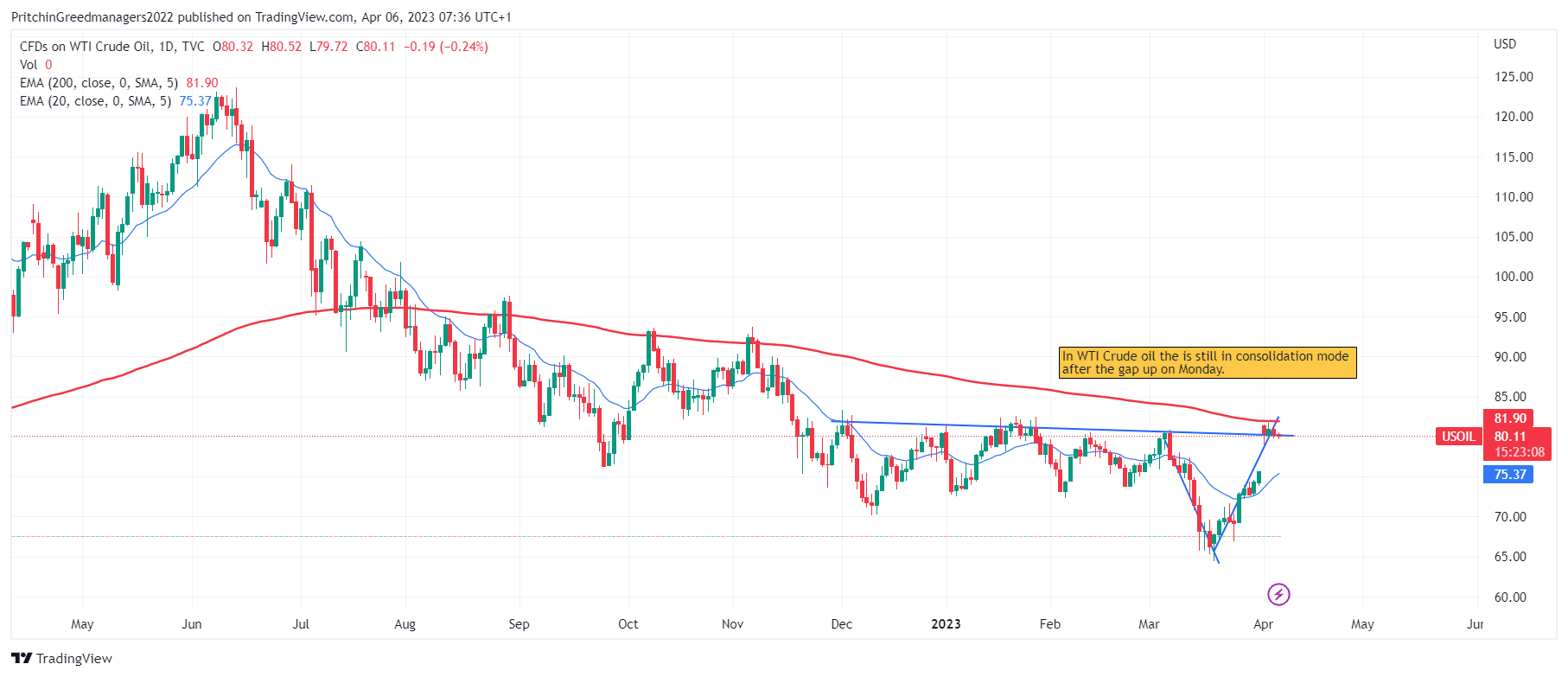 Economic Events and Scenario for WTI Crude Oil (US Oil)
Economic Events: -
| GMT | Event | Impact | Currency |
| --- | --- | --- | --- |
| 00:50 | (Japan) Foreign Bond Investment | Low | JPY |
| 00:50 | (Japan) Stock Investment by Foreigners | Low | JPY |
| 01:00 | (El Salvador) Maundy Thursday | None | USD |
| 01:00 | (Portugal) Maundy Thursday | None | EUR |
| 02:30 | (Australia) Exports MoM | Low | AUD |
| 02:30 | (Australia) Imports MoM | Low | AUD |
| 02:30 | (Australia) Balance of Trade | High | AUD |
| 02:30 | (Australia) RBA Financial Stability Review | Medium | AUD |
| 02:45 | (China) Caixin Composite PMI | Low | CNY |
| 02:45 | (China) Caixin Services PMI | High | CNY |
| 04:35 | (Japan) 6-Month Bill Auction | Low | JPY |
| 04:35 | (Japan) 30-Year JGB Auction | Low | JPY |
| 06:00 | (Estonia) Industrial Production MoM | Low | EUR |
| 06:00 | (Estonia) Industrial Production YoY | Low | EUR |
| 06:00 | (Finland) Industrial Production YoY | Low | EUR |
| 06:45 | (Switzerland) Unemployment Rate | High | CHF |
| 07:00 | (Finland) Balance of Trade | Low | EUR |
| 07:00 | (Germany) Industrial Production MoM | Medium | EUR |
| 07:00 | (United Kingdom) Halifax House Price Index MoM | Medium | GBP |
| 07:00 | (United Kingdom) Halifax House Price Index YoY | Medium | GBP |
| 08:00 | (Austria) Balance of Trade | Low | EUR |
| 08:00 | (Austria) Wholesale Prices MoM | Low | EUR |
| 08:00 | (Austria) Wholesale Prices YoY | Low | EUR |
| 08:00 | (Slovakia) Balance of Trade | Low | EUR |
| 08:00 | (Switzerland) Foreign Exchange Reserves | Low | CHF |
| 08:30 | (Euro Area) S&P Global Construction PMI | Low | EUR |
| 08:30 | (France) S&P Global Construction PMI | Low | EUR |
| 08:30 | (Germany) S&P Global Construction PMI | Medium | EUR |
| 08:30 | (Italy) S&P Global Construction PMI | Low | EUR |
| 09:00 | (Germany) New Car Registrations YoY | Low | EUR |
| 09:30 | (United Kingdom) S&P Global/CIPS Construction PMI | Medium | GBP |
| 10:00 | (France) New Car Registrations YoY | Low | EUR |
| 10:00 | (Cyprus) Construction Output YoY | Low | EUR |
| 10:00 | (Cyprus) Inflation Rate MoM | Low | EUR |
| 10:00 | (Cyprus) Inflation Rate YoY | Low | EUR |
| 10:00 | (France) 10-Year OAT Auction | Low | EUR |
| 11:00 | (Ireland) Industrial Production YoY | Low | EUR |
| 12:30 | (United States) Challenger Job Cuts | Low | USD |
| 13:30 | (Canada) Average Hourly Wages YoY | Low | CAD |
| 13:30 | (Canada) Part Time Employment Chg | Medium | CAD |
| 13:30 | (Canada) Full Time Employment Chg | Medium | CAD |
| 13:30 | (Canada) Participation Rate | Medium | CAD |
| 13:30 | (Canada) Employment Change | High | CAD |
| 13:30 | (Canada) Unemployment Rate | High | CAD |
| 13:30 | (United States) Initial Jobless Claims | High | USD |
| 13:30 | (United States) Jobless Claims 4-week Average | High | USD |
| 13:30 | (United States) Continuing Jobless Claims | High | USD |
| 15:00 | (Canada) Ivey PMI s.a | High | CAD |
| 15:00 | (Ecuador) Inflation Rate YoY | Low | USD |
| 15:00 | (United States) Total Vehicle Sales | Low | USD |
| 15:00 | (United States) Fed Bullard Speech | Medium | USD |
| 15:30 | (United States) EIA Natural Gas Stocks Change | Low | USD |
| 16:30 | (United States) 8-Week Bill Auction | Low | USD |
| 16:30 | (United States) 4-Week Bill Auction | Low | USD |
| 18:00 | (United States) Baker Hughes Oil Rig Count | Low | USD |
| 18:00 | (United States) Baker Hughes Total Rig Count | Low | USD |
---
Today's Scenario: - WTI crude oil has experienced a second consecutive day of decline, having recently reached a seven-week high. It is currently down by 0.50%, trading near $79.95 as Thursday's European session begins. This decline can be attributed to a corrective bounce in the US Dollar and a general negative sentiment, which has resulted in trimming gains during the third consecutive weekly uptrend.
---
Buy Scenario: - A potential uptrend may occur if the market rises above the resistance level of 81.81. If this happens, the next target level would be the resistance level of 83.04. Till we do not advise to buy in WTI US oil.
---
Selling Scenario: - If the market continues to trade below the resistance level of 81.81, it is likely that the downtrend will persist, potentially leading to a drop towards the support level of 75.70. Till will did not advise to sell WTI Crude oil.
---
Support and Resistance Level: -
| Support | | | Resistance |
| --- | --- | --- | --- |
| S1 79.66 | - | | R1 81.16 |
| S2 78.95 | - | | R2 81.95 |
| S3 78.16 | - | | R3 82.66 |