Daily Analysis For USD/CAD 08-05-2023
USD/CAD Analysis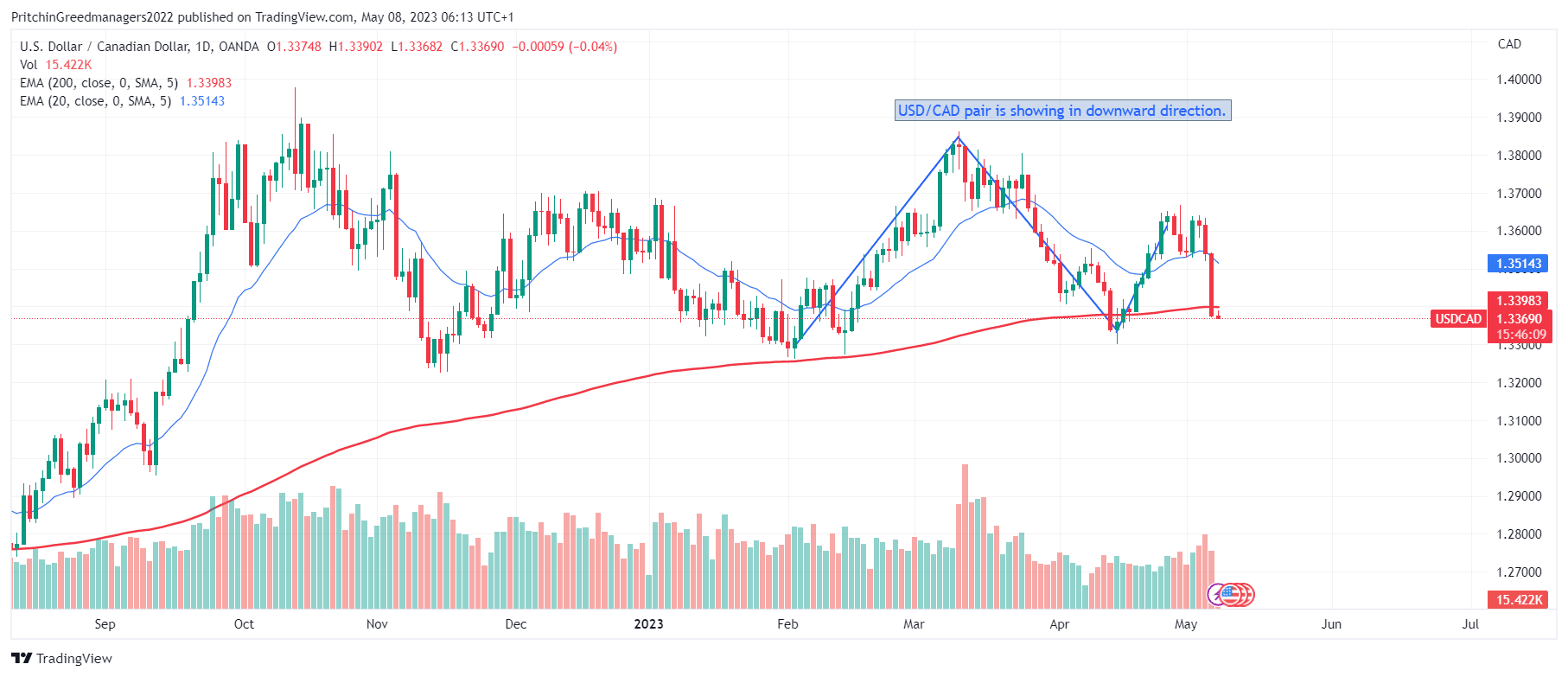 Economic Events and Scenario for USD/CAD
Economic Events : -
| GMT | Event | Impact | Currency |
| --- | --- | --- | --- |
| 00:50 | (Japan) BoJ Monetary Policy Meeting Minutes | Medium | JPY |
| 01:00 | (France) Victory in Europe Day | None | EUR |
| 01:00 | (United Kingdom) Bank Holiday for the coronation of King Charles III | None | GBP |
| 01:30 | (Japan) Jibun Bank Services PMI | Medium | JPY |
| 01:30 | (Japan) Jibun Bank Composite PMI | Low | JPY |
| 02:30 | (Australia) Building Permits MoM | Medium | AUD |
| 02:30 | (Australia) Private House Approvals MoM | Low | AUD |
| 02:30 | (Australia) Building Permits YoY | Low | AUD |
| 02:30 | (Australia) NAB Business Confidence | High | AUD |
| 06:00 | (Estonia) Inflation Rate YoY | Low | EUR |
| 06:00 | (Estonia) Inflation Rate MoM | Low | EUR |
| 06:00 | (Estonia) CPI | Low | EUR |
| 07:00 | (Finland) Balance of Trade | Low | EUR |
| 07:00 | (Germany) Industrial Production MoM | Medium | EUR |
| 09:00 | (Australia) Myfxbook AUDUSD Sentiment | Medium | AUD |
| 09:00 | (Switzerland) Myfxbook USDCHF Sentiment | Medium | CHF |
| 09:00 | (Japan) Myfxbook USDJPY Sentiment | Medium | JPY |
| 09:00 | (European Union) Myfxbook EURUSD Sentiment | Medium | EUR |
| 09:00 | (United Kingdom) Myfxbook GBPUSD Sentiment | Medium | GBP |
| 09:00 | (Canada) Myfxbook USDCAD Sentiment | Medium | CAD |
| 09:00 | (New Zealand) Myfxbook NZDUSD Sentiment | Medium | NZD |
| 10:00 | (Greece) Balance of Trade | Low | EUR |
| 10:30 | (Germany) 3-Month Bubill Auction | Low | EUR |
| 11:00 | (Spain) Consumer Confidence | Medium | EUR |
| 11:00 | (Latvia) Industrial Production MoM | Low | EUR |
| 11:00 | (Latvia) Industrial Production YoY | Low | EUR |
| 15:00 | (El Salvador) Inflation Rate YoY | Low | USD |
| 15:00 | (El Salvador) Inflation Rate MoM | Low | USD |
| 15:00 | (United States) Wholesale Inventories MoM | Low | USD |
| 16:00 | (United States) Consumer Inflation Expectations | Low | USD |
| 16:30 | (United States) 3-Month Bill Auction | Low | USD |
| 16:30 | (United States) 6-Month Bill Auction | Low | USD |
| 23:45 | (New Zealand) Electronic Retail Card Spending MoM | Low | NZD |
| 23:45 | (New Zealand) Electronic Retail Card Spending YoY | Low | NZD |
---
Today's Scenario: - The USD/CAD pair initially dropped to near 1.3370 during the early Asian session, but has since found some support. However, it is expected to continue its downward trend due to rising oil prices and the expectation that the Federal Reserve will pause its policy-tightening measures. Additionally, strong labor market data from Canada has renewed fears of more interest rate hikes from the Bank of Canada. In April, Canada's Net Change in Employment was 41.4K, beating expectations of 20K, and the Unemployment Rate dropped to 5.0%, lower than the expected 5.1%. Annual Average Hourly Earnings remained steady at 5.2%.
---
Buy Scenario: - On the buying side for the USD/CAD Alternatively, if the pair rebounds and rises above the high on April 10 at 1.3554, it could potentially target the high on January 05 at 1.3595. If it breaks above this level, it could target the high on April 26 at 1.3651. Till we do not advise to buy USD/CAD.
---
Sell Scenario: - The USD/CAD pair is currently in a Symmetrical Triangle chart pattern on a daily timeframe, which signifies a reduction in volatility followed by an eventual increase in the same. The trendline of the pattern that is sloping downwards is connected from the high on October 10, 2022, at 1.3978, while the trendline that is sloping upwards is linked from the low on November 15, 2022, at 1.3226.
The 20-period Exponential Moving Average (EMA) at 1.3500 is closely aligned with the price of the Loonie, indicating a decrease in volatility.
The Relative Strength Index (RSI) (14) has marginally fallen below the bearish range of 20.00-40.00, and a continued decline below this range could potentially accelerate bearish momentum.
Looking ahead, if the USD/CAD pair falls below last week's low at 1.3371, it could extend its decline towards the low on April 17 at 1.3343, followed by the support level at 1.3300. Till we do not advise to sell USD/CAD.
---
Support and Resistance Level: -
| Support | | | Resistance |
| --- | --- | --- | --- |
| S1 1.3317 | - | | R1 1.3487 |
| S2 1.3259 | - | | R2 1.3599 |
| S3 1.3146 | - | | R3 1.3657 |