Daily Analysis For US Doller Index 16-05-2023
US Doller Index Analysis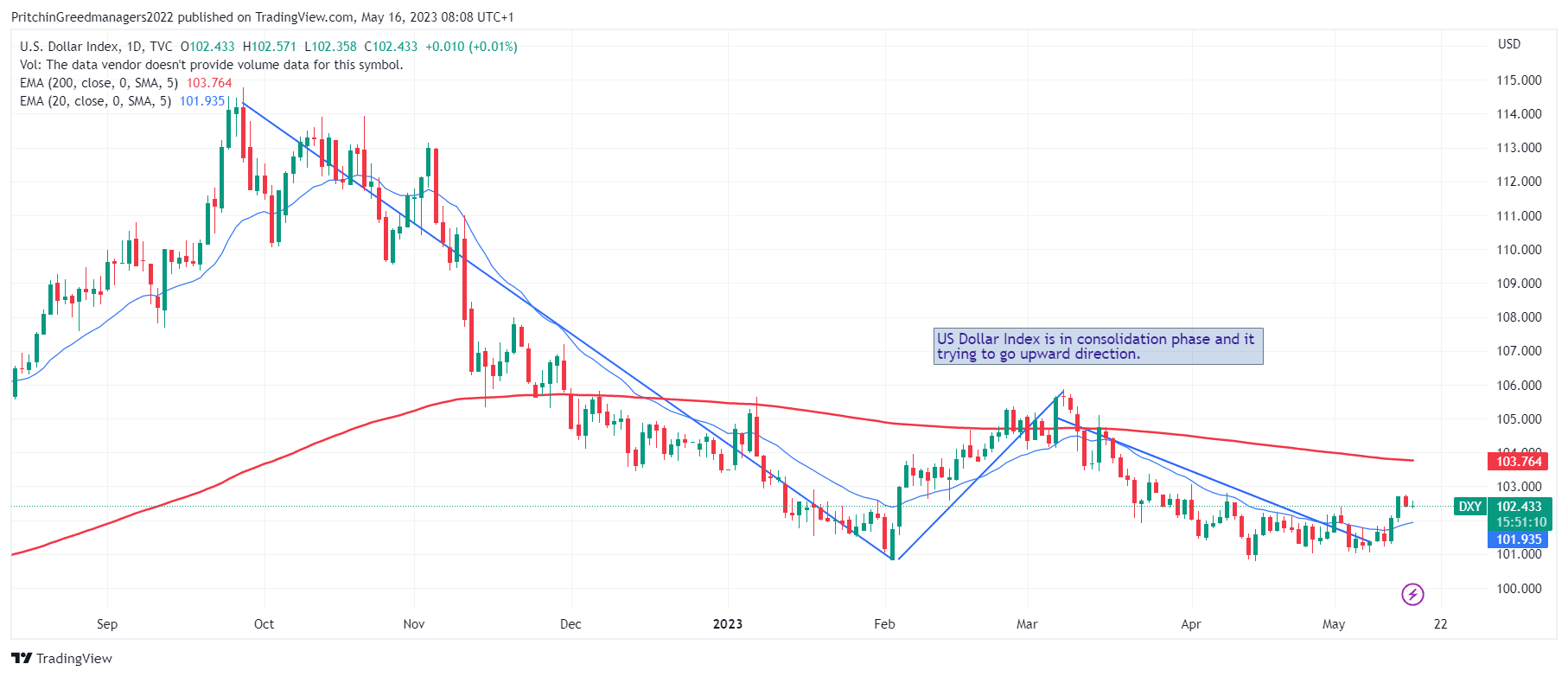 Economic Events and Scenario for US Doller Index
Economic Events : -
| GMT | Event | Impact | Currency |
| --- | --- | --- | --- |
| 01:30 | (Australia) Westpac Consumer Confidence Index | High | AUD |
| 01:30 | (Australia) Westpac Consumer Confidence Change | High | AUD |
| 02:30 | (Australia) RBA Meeting Minutes | High | AUD |
| 03:00 | (China) Unemployment Rate | High | CNY |
| 03:00 | (China) Retail Sales YoY | High | CNY |
| 03:00 | (China) Industrial Production YoY | High | CNY |
| 03:00 | (China) Fixed Asset Investment (YTD) YoY | Medium | CNY |
| 06:00 | (Finland) GDP YoY | Low | EUR |
| 06:00 | (Finland) GDP Growth Rate QoQ | Low | EUR |
| 06:00 | (Finland) GDP Growth Rate YoY | Low | EUR |
| 07:00 | (United Kingdom) HMRC Payrolls Change | Low | GBP |
| 07:00 | (United Kingdom) Average Earnings excl. Bonus (3Mo/Yr) | Low | GBP |
| 07:00 | (United Kingdom) Average Earnings incl. Bonus (3Mo/Yr) | Medium | GBP |
| 07:00 | (United Kingdom) Unemployment Rate | High | GBP |
| 07:00 | (United Kingdom) Claimant Count Change | High | GBP |
| 07:00 | (United Kingdom) Employment Change | High | GBP |
| 07:00 | (United Kingdom) Labour Productivity QoQ | Low | GBP |
| 08:00 | (China) FDI (YTD) YoY | Medium | CNY |
| 08:00 | (Slovakia) GDP Growth Rate YoY | Low | EUR |
| 08:00 | (Slovakia) GDP Growth Rate QoQ | Low | EUR |
| 08:30 | (Netherlands) Household Consumption YoY | Low | EUR |
| 08:30 | (Netherlands) GDP Growth Rate QoQ | Medium | EUR |
| 08:30 | (Netherlands) GDP Growth Rate YoY | Medium | EUR |
| 08:30 | (Netherlands) Balance of Trade | Low | EUR |
| 09:00 | (European Union) ECOFIN Meeting | Medium | EUR |
| 09:00 | (France) IEA Oil Market Report | Medium | EUR |
| 09:00 | (Italy) Inflation Rate MoM | Low | EUR |
| 09:00 | (Italy) Harmonised Inflation Rate MoM | Low | EUR |
| 09:00 | (Italy) Inflation Rate YoY | Medium | EUR |
| 09:00 | (Italy) Harmonised Inflation Rate YoY | Low | EUR |
| 09:00 | (Italy) CPI | High | EUR |
| 09:40 | (Spain) 3-Month Letras Auction | Low | EUR |
| 10:00 | (Cyprus) GDP Growth Rate YoY | Low | EUR |
| 10:00 | (Cyprus) GDP Growth Rate QoQ | Low | EUR |
| 10:00 | (Euro Area) GDP Growth Rate YoY | Medium | EUR |
| 10:00 | (Euro Area) GDP Growth Rate QoQ | Medium | EUR |
| 10:00 | (Euro Area) Employment Change QoQ | High | EUR |
| 10:00 | (Euro Area) Employment Change YoY | High | EUR |
| 10:00 | (Euro Area) Balance of Trade | Medium | EUR |
| 10:00 | (Euro Area) ZEW Economic Sentiment Index | Medium | EUR |
| 10:00 | (Germany) ZEW Current Conditions | Low | EUR |
| 10:00 | (Germany) ZEW Economic Sentiment Index | High | EUR |
| 10:00 | (Montenegro) Inflation Rate MoM | Low | EUR |
| 10:00 | (Montenegro) Harmonised Inflation Rate YoY | Low | EUR |
| 10:00 | (Montenegro) Inflation Rate YoY | Low | EUR |
| 13:15 | (United States) Fed Mester Speech | Medium | USD |
| 13:30 | (Canada) Manufacturing Sales MoM | Low | CAD |
| 13:30 | (Canada) Core Inflation Rate MoM | Low | CAD |
| 13:30 | (Canada) Core Inflation Rate YoY | Medium | CAD |
| 13:30 | (Canada) Inflation Rate MoM | Medium | CAD |
| 13:30 | (Canada) Inflation Rate YoY | High | CAD |
| 13:30 | (Canada) CPI Trimmed-Mean YoY | High | CAD |
| 13:30 | (Canada) CPI Median YoY | High | CAD |
| 13:30 | (United States) Retail Sales Ex Gas/Autos MoM | High | USD |
| 13:30 | (United States) Retail Sales YoY | High | USD |
| 13:30 | (United States) Retail Sales Ex Autos MoM | High | USD |
| 13:30 | (United States) Retail Sales MoM | High | USD |
| 13:55 | (United States) Redbook YoY | Low | USD |
| 13:55 | (United States) Fed Bostic Speech | Medium | USD |
| 14:15 | (United States) Manufacturing Production MoM | Low | USD |
| 14:15 | (United States) Industrial Production MoM | Medium | USD |
| 14:15 | (United States) Industrial Production YoY | Medium | USD |
| 14:15 | (United States) Manufacturing Production YoY | Low | USD |
| 14:15 | (United States) Capacity Utilization | Low | USD |
| 14:45 | (Euro Area) ECB Tuominen Speech | Low | EUR |
| 15:00 | (United States) Retail Inventories Ex Autos MoM | Low | USD |
| 15:00 | (United States) Business Inventories MoM | Medium | USD |
| 15:00 | (United States) NAHB Housing Market Index | Medium | USD |
| 15:00 | (United States) Fed Barr Testimony | Medium | USD |
| 15:00 | (Euro Area) ECB President Lagarde Speech | Medium | EUR |
| 16:00 | (New Zealand) Global Dairy Trade Price Index | Low | NZD |
| 16:30 | (United States) 52-Week Bill Auction | Low | USD |
| 17:15 | (United States) Fed Williams Speech | Medium | USD |
| 20:15 | (United States) Fed Logan Speech | Medium | USD |
| 21:30 | (United States) API Crude Oil Stock Change | Medium | USD |
---
Today's Scenario: - On Monday, the US dollar saw a significant increase in value against other major currencies, reaching its highest level in five weeks. This rise was driven by concerns surrounding inflation in the US and global economic growth.
The dollar had already experienced notable gains throughout the previous week, and its upward trend continued, surpassing levels not seen since April 10. Although it slightly retraced later in the day, it remains relatively strong.
In the past week alone, the dollar has gained 1.4%. Traders believe that the currency is currently undervalued and anticipate that the dollar index, which measures its value against other major currencies, will reach 104 by the end of June.
As of 05:51 GMT, June U.S. Dollar Index futures are trading at 102.430, showing a decline of 0.079 or -0.08%. This is a slight drop from the intraday high of 102.585. On Friday, the Invesco DB US Dollar Index Bullish Fund ETF (UUP) closed at $28.10, marking an increase of $0.18 or +0.63%.
---
Buy Scenario: - The US Dollar Index (DXY) reached fresh monthly highs near 102.80 on Monday but quickly retraced its gains. For the bullish momentum to continue, the index would need to surpass the previous weekly high at 102.80, which was recorded on April 10. If this level is breached, it could potentially pave the way for a visit to the April high at 103.05, which was reached on April 3. Till we do not advise to buy US Dollar Index.
---
Sell Scenario: - On the downside, there is currently strong support around the 101.00 level, acting as a significant barrier.
Taking a broader perspective, as long as the index remains below the 200-day Simple Moving Average (SMA), which is currently positioned at 105.83, the overall outlook for the index is expected to remain negative. Till we do not advise to sell in US Dollar Index
---
Support and Resistance Level: -
| Support | | | Resistance |
| --- | --- | --- | --- |
| S1 102.29 | - | | R1 102.68 |
| S2 102.13 | - | | R2 102.91 |
| S3 101.90 | - | | R3 103.07 |