Daily Analysis For GOLD (XAU/USD) 18-05-2023
Gold (XAU/USD) Analysis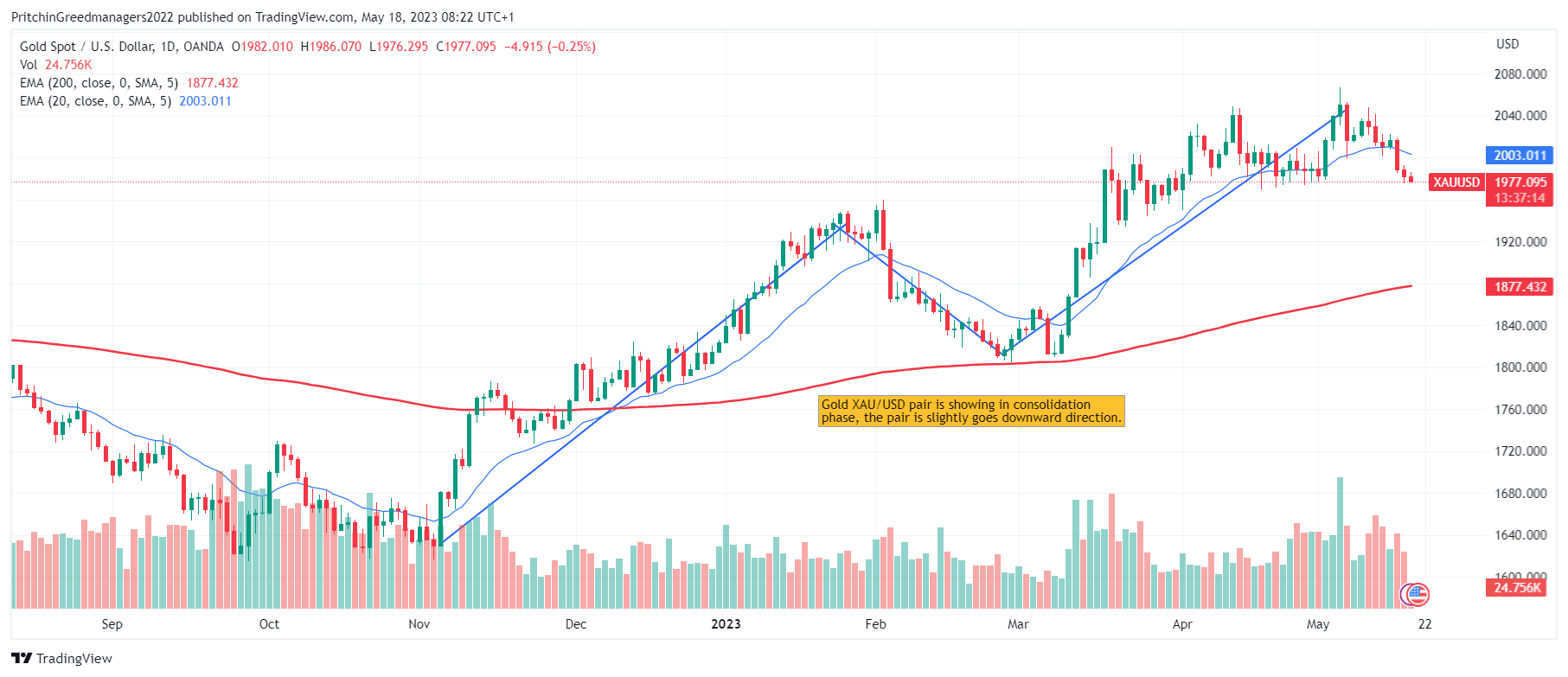 Economic Events and Scenario for XAU/USD (GOLD)
Economic Events :-
| GMT | Event | Impact | Currency |
| --- | --- | --- | --- |
| 00:50 | (Japan) Foreign Bond Investment | Low | JPY |
| 00:50 | (Japan) Stock Investment by Foreigners | Low | JPY |
| 00:50 | (Japan) Imports YoY | Low | JPY |
| 00:50 | (Japan) Exports YoY | Medium | JPY |
| 00:50 | (Japan) Balance of Trade | High | JPY |
| 01:00 | (Austria) Ascension Day | None | EUR |
| 01:00 | (Belgium) Ascension Day | None | EUR |
| 01:00 | (Euro Area) Ascension Day | None | EUR |
| 01:00 | (Finland) Ascension Day | None | EUR |
| 01:00 | (France) Ascension Day | None | EUR |
| 01:00 | (Germany) Ascension Day | None | EUR |
| 01:00 | (Luxembourg) Ascension Day | None | EUR |
| 01:00 | (Netherlands) Ascension Day | None | EUR |
| 01:00 | (Switzerland) Ascension Day | None | CHF |
| 02:30 | (Australia) Part Time Employment Chg | Medium | AUD |
| 02:30 | (Australia) Participation Rate | Low | AUD |
| 02:30 | (Australia) Full Time Employment Chg | Medium | AUD |
| 02:30 | (Australia) Unemployment Rate | High | AUD |
| 02:30 | (Australia) Employment Change | High | AUD |
| 04:00 | (East Timor) Inflation Rate YoY | Low | USD |
| 04:00 | (East Timor) Inflation Rate MoM | Low | USD |
| 04:35 | (Japan) 52-Week Bill Auction | Low | JPY |
| 07:30 | (Euro Area) ECB Guindos Speech | High | EUR |
| 09:00 | (Spain) Balance of Trade | Medium | EUR |
| 09:40 | (Spain) Obligacion Auction | Low | EUR |
| 09:40 | (Spain) 5-Year Bonos Auction | Low | EUR |
| 10:00 | (Euro Area) ECB President Lagarde Speech | Medium | EUR |
| 11:00 | (Portugal) PPI MoM | Low | EUR |
| 11:00 | (Portugal) PPI YoY | Low | EUR |
| 11:00 | (Slovakia) Unemployment Rate | Low | EUR |
| 11:30 | (Portugal) Private Consumption YoY | Low | EUR |
| 11:30 | (Portugal) Economic Activity YoY | Low | EUR |
| 13:30 | (United States) Philadelphia Fed Manufacturing Index | Medium | USD |
| 13:30 | (United States) Philly Fed Business Conditions | Low | USD |
| 13:30 | (United States) Philly Fed CAPEX Index | Low | USD |
| 13:30 | (United States) Philly Fed Employment | Low | USD |
| 13:30 | (United States) Philly Fed New Orders | Low | USD |
| 13:30 | (United States) Philly Fed Prices Paid | Low | USD |
| 13:30 | (United States) Initial Jobless Claims | High | USD |
| 13:30 | (United States) Jobless Claims 4-week Average | High | USD |
| 13:30 | (United States) Continuing Jobless Claims | High | USD |
| 13:30 | (Canada) New Housing Price Index YoY | Medium | CAD |
| 13:30 | (Canada) New Housing Price Index MoM | Medium | CAD |
| 14:05 | (United States) Fed Jefferson Speech | Medium | USD |
| 14:30 | (United States) Fed Barr Testimony | Medium | USD |
| 15:00 | (United States) Existing Home Sales MoM | High | USD |
| 15:00 | (United States) Existing Home Sales | High | USD |
| 15:00 | (United States) CB Leading Index MoM | Low | USD |
| 15:00 | (United States) Fed Logan Speech | Medium | USD |
| 15:30 | (United States) EIA Natural Gas Stocks Change | Low | USD |
| 16:30 | (United States) 8-Week Bill Auction | Low | USD |
| 16:30 | (United States) 4-Week Bill Auction | Low | USD |
| 18:00 | (United States) 10-Year TIPS Auction | Low | USD |
| 20:00 | (El Salvador) Balance of Trade | Low | USD |
| 23:45 | (New Zealand) Balance of Trade | Medium | NZD |
| 23:45 | (New Zealand) Exports | Low | NZD |
| 23:45 | (New Zealand) Imports | Low | NZD |
---
Today's Scenario: - Gold price (XAU/USD) is holding onto slight gains around $1,985 as it rebounds from its lowest levels in three weeks. The recent downtrend has halted for now, thanks to the US Dollar's struggle to extend its recent rally to multi-day highs. Market sentiment remains mixed due to concerns over the US default situation and worries about declining retail sales in the US.
US President Joe Biden and House Speaker Kevin McCarthy's efforts to assure the markets that they will work together to prevent a "catastrophic" default have helped boost risk appetite and supported the US Dollar. The greenback's strength has also been influenced by mostly positive US data and hawkish comments from Federal Reserve officials.
---
Buy Scenario: - Gold price (XAU/USD) has rebounded from a three-week low, supported by oversold conditions indicated by the RSI (14) and bullish signals from the MACD. However, the bulls are facing strong resistance around $1,995, where the 50-hour moving average and the support-turned-resistance line from April 27 converge.
Even if XAU/USD manages to surpass $1,995, further hurdles await at the psychological level of $2,000 and the previous resistance line from May 3, around $2,010. Till we did not advise to buy XAU/USD.
---
Selling Scenario: - On the downside, a sustained pullback in Gold price is unlikely unless it breaks below the horizontal support area established over the past three weeks, roughly between $1,975 and $1,974.
Additional support levels can be found near the mid-April low around $1,969 and the previous monthly bottom around $1,950.
In summary, the Gold price recovery remains limited below $2,010. We do not advise selling XAU/USD.
---
Support and Resistance Level: -
| Support | | | Resistance |
| --- | --- | --- | --- |
| S1 1973.60 | - | | R1 1991.66 |
| S2 1965.30 | - | | R2 2001.42 |
| S3 1955.54 | - | | R3 2009.72 |